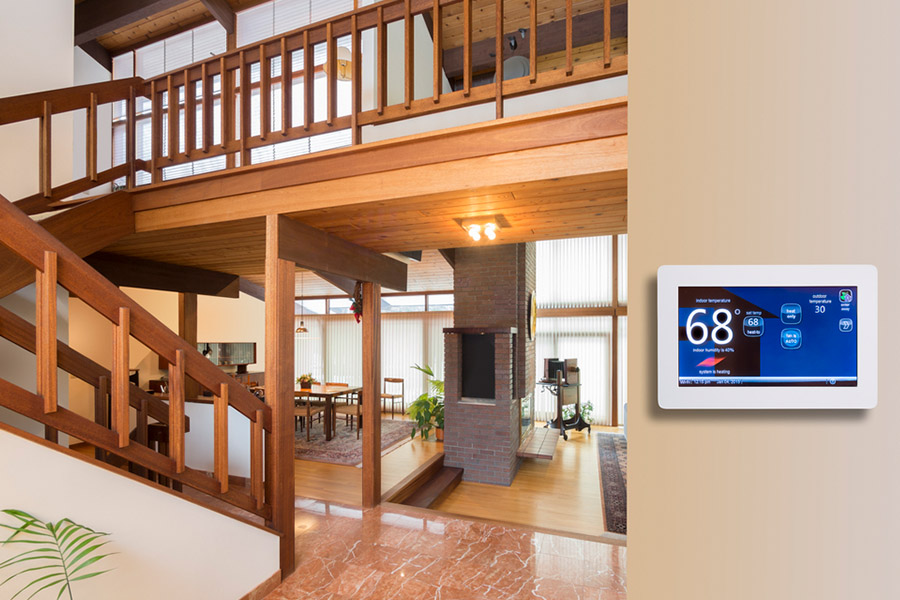 Should You Install A Smart Thermostat In Spokane? | Secure24 Alarm Systems
Modern smart thermostats have progressed well past the point of being just a basic mechanism for controlling your temperature settings. If you want to install a smart thermostat in Spokane, you're going to get much more comfort with less effort on your part. Equipped with easy Wi-Fi access, multi-room sensors, and the convenience of home automation, these revolutionary devices will reduce heating and cooling costs and improve your home's overall comfort and safety.
What Are Smart Thermostats In Spokane?
Following installation, your smart thermostat will operate in a comparable fashion as your previous model in regards to core temperature control. The design will likely be a bit more elegant, but you'll still be able to see the temperature display. You can still adjust your temperature settings from the device, and it still offers the ability to quickly adjust settings for heat, cool, and fan.
But, when you install a smart thermostat in Spokane, you will enjoy a nice addition of advanced features. This is due to the fact that the device is linked into a larger system, like your Google smart speaker or your home's security system. Using a central interface or mobile app, you can prearrange your smart thermostat to alter your home's temperature settings automatically at whatever times you choose or to react to different stimuli. The bottom line is a house that is more energy conscious and comfortable.
Reasons To Install A Smart Thermostat in Spokane
There are a range of justifications for switching from your old device to a smart thermostat:
● Ease of control with a smartphone app. Manage the thermostat no matter where you are with a cell phone app such as ADT Control. Are you feeling a bit overheated while you're struggling to get some rest? Simply open your phone and adjust the A/C from your bed. You might even inspect your house's temperature while on summer break, and adjust the heat to conserve energy if your house is empty.
● Take advantage of scheduling. A smart thermostat gives you the ability to use smart schedules for your HVAC system. Arrange multiple temperature changes to accommodate your family's needs. Reduce the heat for bedtime, then increase it once more in the morning an hour or so before you arise. Or devise specific scenes for certain situations -- like a scene for entertaining or a scene for when you use the fireplace.
● Lower utility bills through home automation. A great benefit of smart thermostats is that they can reduce energy expenses. You are able to easily modify the temperature as needed due to seasonal fluctuations, weather conditions, or time of day. There's no need to spend excess energy cooling and heating an empty house. In addition, by programming schedules, your smart device adjusts itself. Various energy providers also extend rebates and savings programs under specified circumstances.
● Make use of voice activation to direct your home. If you decide to install a smart thermostat in Spokane, you also have the opportunity to program it to work with a smart speaker device from Amazon or Google. This offers the chance to adjust the settings through simple spoken commands.
● Link your thermostat to additional home automation items. If your smart thermostat is part of a comprehensive home protection plan, you have the chance to link all your elements into a unified network. This helps keep your home safe when disaster strikes. For example, you might program your thermostat to activate the ventilation fan when your fire alarm goes off.
Make The Switch To A Smart Thermostat In Spokane Today
When your standard thermostat doesn't meet your needs, you should upgrade to a new "smart" model. They're stylish, easy to use, and will noticeably lower your energy expenses in the long run. It's also best when you link it with an advanced home security system. Reach out to us today at (509) 240-8651 or complete the following form to inquire about your smart thermostat.
Cities Served Around Spokane By Secure24 Your Local ADT Authorized Dealer